If you are like me who constantly uses Google Calendar to keep track of deadlines and events, here's a nifty feature that you may have not used yet: Getting reminders to your mobile cellphone.
To setup mobile reminders in Google Calendar:
1. Click the Settings link on the upper left corner of the calendar.


2. On the next window click on Mobile Setup.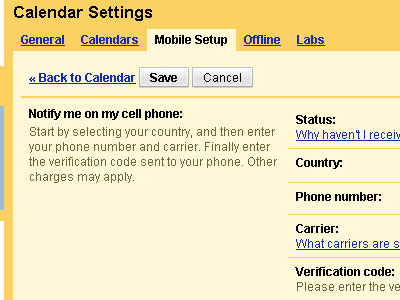 3. Fill in the required fields. You'll be required to put in your country, your (mobile) phone number and a verification code.
4. The (mobile) phone number must be in this format +XXYYYZZZZZZZ, where X is the country code (yes the plus sign is required), Y is the area code (or the network code) and Z is the phone number.
5. Make sure all the details in the field are correct, then click on the Send Verification Code button.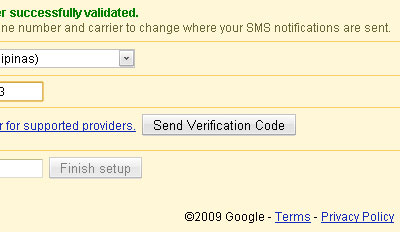 6. If all goes well you should receive a six digit number from google which is your verification code. It may take a while so give it a couple of minutes.
7. Type in the digits you received on the Verification code field and click Finish setup. Click on the Save button and you are set to receive reminders on our cellphone.
After this though please take note that you need to setup your calendars to send notification via SMS to your mobile phone. You can jump here to learn how to enable sms reminders on Google Calendar. ^_^
{ 3 comments }
Continue Reading