Finally decided to retire my now 5 year old laptop, the reliable ASUS F8SG. Hasn't failed me yet, stock hard disk still works after all these years though I upgraded it to SSD early this year.
After a couple of weeks of search, I settled on an ASUS X555LN, box says this model is an ASUS X555LN-XX024H with the following specs:
CPU: Intel Core i7-4510U
Memory: 8GB DDR3
HDD: 1TB
ODD: Yes
Ports: Ethernet LAN, VGA, HDMI, SD card reader, audio socket, 3 USB ports
Here's its CPU specs according to CPU-Z: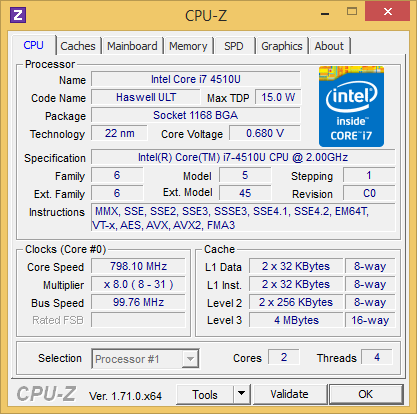 After getting the unit, I immediately upgraded the HDD to SSD, not going back to hard disks, that's for sure. I used a Transcend SSD370 as replacement.
I won't do an in-depth technical review for this laptop for the lack of time, this review from notebook check should give you an idea about its technical bearing (my unit's CPU is better though).
The Good
Now here's my experience with this laptop so far.
For what I usually do on computers (applications I use range from Word to Adobe Premiere), it's spittin' fast! The applications I run are very responsive even with the Adobe Master Suite.
The keys are well spaced, tactile feel isn't the best but good enough for my use.
Laptop is cool (not IceCool though as ASUS is advertising), CPU temp ranges from 38 C to 45 C under average load. Ran a stress testing software (Prime95), temp peaked at 80 C and then settled at 70 C at full load. Despite that, the laptop was still responsive despite the load.
Screen is well lit and the colors look good, not a fan of the glossy screen though. Boot time was amazing, it was well under 10 seconds until the log-screen. Add another 8 seconds or so after you enter the password and it's ready to take anything you throw at it.
The Not so Good
Unfortunately, there are a couple of things I particularly dislike about the ASUS X555LN.
The unit I got is a finger print magnet, for some reason the top cover is not the textured type, it's glossy so I leave marks on it every time I touch it.
The edge of the bottom lid is a bit sharp and I need to move my wrist to a certain distance from the keyboard so that it's comfortable to type.
The whole thing's made of plastic so keyboard flexes if I put too much pressure on it.
The arrow keys are evenly spaced with the other keys so there's no way to distinguish it by touch. I may eventually memorize the space like I did on my previous laptops but it will take a while so for now, I find it annoying to look at my keyboard every now and then.
Despite the shortcomings, I'm impressed with this laptop and hopefully this should last me the next 3 or 5 years. I even have this feeling that I've spent a bit much on hardware since I don't play games anymore but I'm sticking to what Google said "FAST is the feature.'
Hope this helps ^_^