Yet another upgrade to my aging laptop. From 2GB my laptop now has 4GB of memory and what better way to exploit the use of this upgrade than to upgrade my operating system as well. Enter Windows 7 Ultimate 64 bit.
Good thing though my upgrade to 64 bit was less dramatic than my installation with the 32 bit version. I couldn't say that it was an upgrade as the term implies because I had to reinstall everything after backing up all my data pre 64 bit and doing a clean install.
So this were how things went when I did the installation:
1. Made a backup and imaged the whole laptop drive.
2. Reboot, formatted the install drive (C: in my case) and let the installer do its thing.
3. After the installation this was what was left on the device manager interface were the following: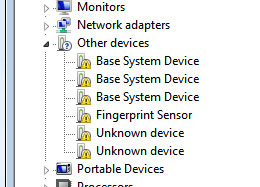 4. The three Base System Device requires the ricoh card reader driver, the two Unknown Device is the atk100 and infrared module respectively. The Fingerprint Sensor requires the authentec fingerprint driver. Please note this is for my ASUS F8 series which is an F8SG-4P03A.
5. Then I proceeded to install the following.
6. The Nvidia video driver for 9300M G. Rebooted after install.
7. ATK100 driver for Windows 7 64 bit. This is for the extra buttons and indicators (wifi, bluetooth) to work properly. Rebooted after install.
8. Installed the ATK hotkey software rebooted, then installed the ATK Media software.
9. Installed the RICOH Card Reader driver then rebooted.
10. Installed the fingerprint software/driver then finally the infrared module driver.
After I installed all the drivers of course I went ahead and updated my system via Windows Update. Then went on to restore my archived backups. Like I said its not much but hopefully somebody will get an idea of how easy it is to install Windows 7 Ultimate 64 bit on a laptop (ASUS F8SG). Please do leave your question at the comment box. Hope this helps. ^_^